Pella Engraving offers a line of laser-engraved products which are perfect for a distinguished-looking plaque or award.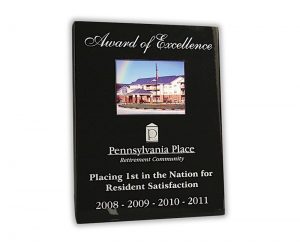 Laser engraving can be used on wood and acrylic awards, as well as coated brass, leather, plastic, rubber, or stainless steel.
Laser engraving is a great option for custom engraved name plates
Gold, silver, or a wide range of colors can be added to most laser-engraved products.
For a different look, we can cut completely through the product to create an outline or cut-out shape.
Materials
Wood
Acrylic
Stainless Steel
Maximum Size
12″ x 24″
Click here to download our artwork specifications.