Nameplates, ID Tags, & Serial Tags
Pella Engraving & Sign Company is a reliable supplier of engraved, UV-printed, and anodized metal ID tags, VIN tags, serial number labels, asset tags with barcodes, and nameplates for industrial machinery and outdoor equipment. We also supply versatile vinyl equipment tags.
With several durable process and material options, we can design the right tag for your application.
Efficient and experienced ID tag, nameplate, and asset tag production:
We are skilled at receiving label requirements electronically and using data download to produce a complete list of ID or asset tags with custom serial numbers and barcodes. This can drastically reduce your labor vs. completing this process in-house!
Our team manages large orders and sequential numbering to meet your specifications.
We manufacture and ship nameplates to meet the requirements of just-in-time production systems.
Our tags will last the life of your equipment, taking the headache out of tracking and maintenance.
Save
Metalphoto® Anodized Aluminum Tags
Recommended use: Ideal for outdoor machinery and industrial equipment in need of barcode and/or serial number ID plates. A versatile ID tag solution when welding and color are not required. Meets DOT requirements for on-road vehicles.
PEC Metalphoto tags are affordable to produce and deliver incredible durability.  
Why is Metalphoto anodized aluminum so durable? Phototransfer technology permanently embeds dye into the pores of the anodized aluminum. Barcodes, text, and serial numbers are sealed beneath the surface. High-resolution reproduction ensures scannable and long-lasting QR codes, barcodes, and VIN/serial numbers.
Photosensitive anodized aluminum labels and asset tags can withstand:
Corrosion
Sunlight
Temperature changes
Abrasion
Salt spray
Exposure to chemicals
Pella Engraving & Sign Company offers a range of customization options for our Metalphoto anodized aluminum serial and asset tags and plates.
Mounting Options
Holes and screws available in all thicknesses
Adhesive backing available on all thicknesses
Maximum Size
20″ x 24″
23″ x 38″ (silver with .032″ or .063″ thickness)
Colors
Black background with silver or gold lettering
Gold background with black lettering
Silver background with black lettering
UV-Printed Color Aluminum Tags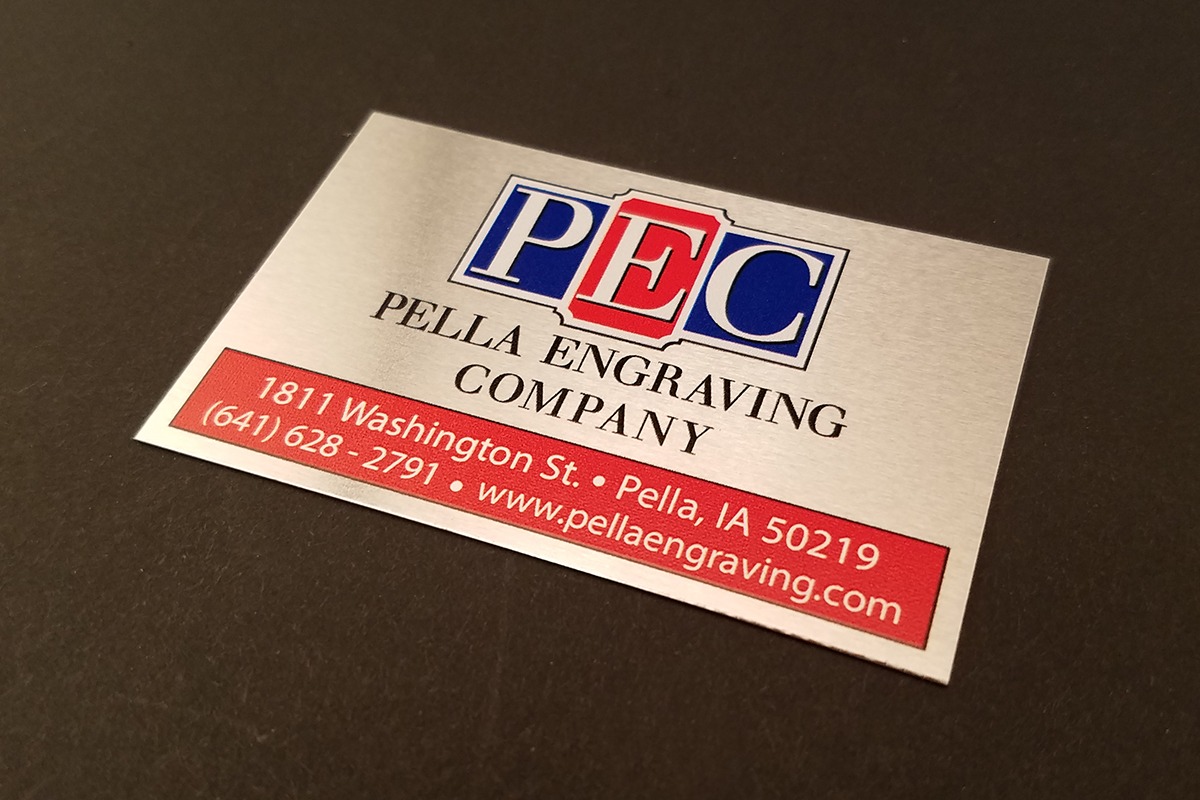 Recommended use: A good fit for safety and informational signage, labels, or nameplates on lighter-duty industrial equipment. Can include barcodes and QR codes. Best if not exposed to constant wear and tear.
When color matters, UV-printed color aluminum tags are an ideal solution. Our flatbed UV printer efficiently produces crisp images.
When sealed, this nameplate option will stand up to outdoor conditions.
Pella Engraving & Sign Company offers a range of customization options for our UV-printed color aluminum tags, signage, and labels.
Mounting Options
Holes for rivets or screws
Adhesive backing
Finish Options
Protective coating with UV inhibitors to preserve color vibrancy for tags and signage that will be exposed to sunlight
Recommended use: Best option for ID tags, serial tags, and VIN tags that will be welded onto industrial parts or equipment, especially items that will be galvanized or painted.
For ID plates that need to be attached to thick metal, PEC offers tool-engraved steel tags. These tags are often attached to individual pieces of large equipment that are shipped in sections and assembled on-site, such as cell phone towers.
These equipment assembly tags are most affordable if the same information is ordered on many tags. They can then be stamped on-site with unique information. Quantity discounts are available on bulk orders.
Recommended thickness: .125″
Call for size and customization options.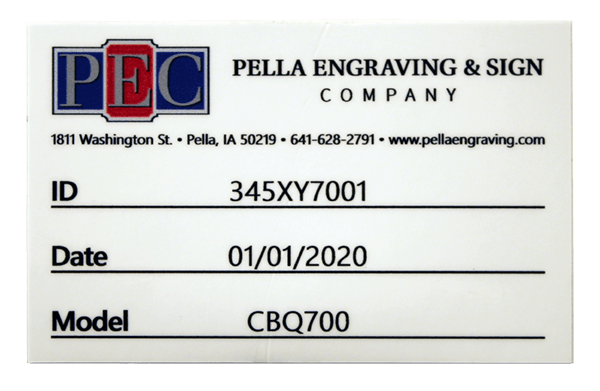 Recommended use: Best suited for vehicle or equipment safety instructions, logos, or instrument panel labels.
Each decal is digitally printed on vinyl using eco-solvent inks that are sharp and readable. The decals are sealed with UV laminate, so they withstand changing weather, tough working conditions, and heavy usage. They can be contour-cut to fit any shape or dimension.
Call for customization options.
Ready to get started on your nameplates, ID tags, and serial tags?
Vinyl Decals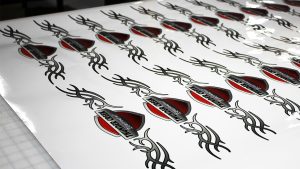 Vehicle Wraps