Upgrading your storefront? Or maybe you're a new business looking to stand out from the crowd. Whatever the reason, the Pella Engraving & Sign Company team has the tools and experience to make your vision a reality, whether it's an eye-catching wall-mounted sign or a multi-layered freestanding sign.
Wall-Mounted Storefront Signage

A wall-mounted or projecting storefront sign uses your building's architecture as a backdrop to draw people in to your business or organization.
Wall-mounted signage materials:
Aluminum and aluminum composite
Vinyl (acrylic and PVC)
Glass
Wood
Steel
Iron
And more
Freestanding Storefront Signage
Freestanding storefront signage makes a statement. Whether you opt for a grand monument sign with a brick base or a traditional post-and-panel sign, customers will take notice.
Freestanding signage materials:
Masonry
Wood
Bronze
Steel
Iron
Aluminum and aluminum composite
Vinyl (acrylic and PVC)
And more
Fabrication & Installation

Your storefront signage will be customized at every step:
Color – Signs can be painted any color using our state-of-the-art paint system. With our UV flatbed printer, we can also print images—including your logo—right on the sign.
Shape and Text – With our CNC router, plasma cutter, and laser engraving equipment, sign components can be cut to a range of sizes and shapes. Lettering can also be cut to almost any size and font.
Installation – Our team has extensive experience in storefront signage installation. We offer a wide range of installation methods and will work with your building's existing architecture and landscape to ensure your sign is installed safely and securely. We are accustomed to working within local building codes and have extensive knowledge of the codes in our immediate service area, including Pella, Oskaloosa, Knoxville, Newton, and more.
Ready to get started on your storefront signage?
Architectural Signage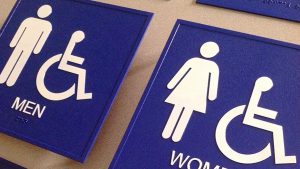 Vehicle Wraps