Pella Engraving & Sign Company constructs a wide range of architectural signage—wayfinding signage, directional signage, interior directories, ADA signage, braille signage, and more. From design to installation, our experienced team creates signs that ensure easy navigation around hospitals, schools, and businesses.
Architectural Signage Materials
Aluminum and aluminum composite
Vinyl (acrylic and PVC)
Glass
Magnesium
Zinc
And more
Fabrication & Installation
Signs and lettering can be cut to a variety of sizes, shapes, and fonts using our CNC router, plasma cutter, and laser engraving equipment. Text, images, logos, and government seals can be added in vibrant color using our UV flatbed printer.
We have extensive experience with architectural signage installation and offer a variety of options. Signs can be installed directly into the side of building or attached to a base pole and installed in the ground. We are accustomed to working within local building codes and have extensive knowledge of the codes in our immediate service area, including Pella, Oskaloosa, Knoxville, Newton, and more.
Ready to get started on your architectural signage?
Storefront Signage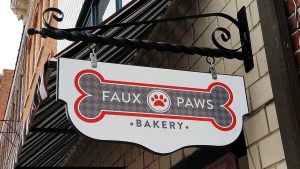 Vehicle Wraps