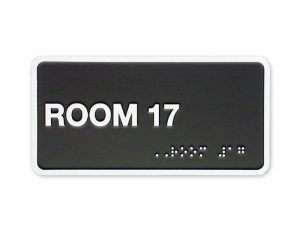 When constructing a new building or redesigning an old one, there are a million little details that need to be taken care of. This includes interior signs that are governed by the Americans with Disabilities Act (ADA) of 1990. The act, authored and sponsored by Senator Tom Harkin (from Iowa, like Pella Engraving!), covers wheelchair accessible signs and signs for restrooms, conference rooms, exits, and more.
ADA-compliant signs are not just braille signs, though they may need to include braille. These signs must meet quite a few qualifications, according to the United States Access Board. For example, all backgrounds must be an eggshell, matte, or other non-glare finish. Another requirement: "Letters and numbers on signs shall have a width-to-height ratio between 3:5 and 1:1." Other rules govern character height, height to which letters can be raised, finish and contrast requirements, and mounting height. There are also international symbols that should be used on some signs, such as the symbol for a wheelchair.
Need help with your ADA signs? Email info@pellaengraving.com or call 877-549-5447.