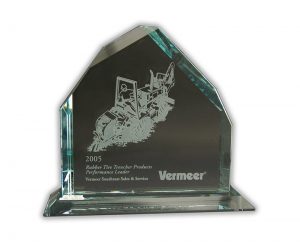 For years Vermeer Corporation in Pella, Iowa, has asked Pella Engraving to create its years-of-service awards, which are given out every December. Pella Engraving also manufactured the Platinum Dealership Award that hangs in our Global Pavilion, as well as plaques for our service technicians.
"We have been thrilled with Pella Engraving and their friendly customer service. They are always willing to get every last detail just right. They're very easy to work with, and their support is fantastic," said Vermeer's Bev Rietveld.
So a few years ago, when Vermeer was seeking a better ID tag, Distribution Development Manager Chad Vander Wilt called Jeff Vroom at Pella Engraving.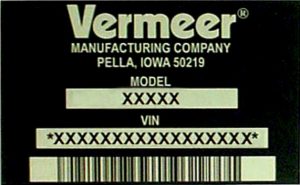 Committed to meeting this valuable customer's needs, Pella Engraving developed a new product: anodized aluminum tags. They meet Vermeer needs superbly. Phototransfer technology embeds the dye permanently into the pores of the aluminum. "We tried scratching it off with a key, and we couldn't do it," said Chad. "We are pleased with the durability." Various regulations and standards require that ID tag information on the on-highway and off-road heavy equipment be indelible.
But more than just the product pleases Vermeer Corporation. The product ID tags reduce Vermeer in-house labor, reduce their tag inventory, and provide greater accuracy than the previous tags.
Previously the company kept a one- to six-month supply of tags for many of the 200 products it manufactures. A unique 17-digit VIN (Vehicle Identification Number) and model were added to each ID tag before it was attached to the equipment rolling off the line.
Now, Vermeer stocks very few ID tags. Vermeer staff emails a data file to Pella Engraving and within a few days receives the tags, complete with the unique 17-digit VIN.  Vermeer ID tag workload has been reduced by nearly 80 percent—from ten hours per week to less than two hours per week. And an automatic electronic transfer of the information from the data files to Pella Engraving equipment has eliminated any potential key stroking errors.
The new tags also include barcodes, and Vermeer is beginning to implement barcode scanners to replace the current handwritten shipping manifests with computer-generated ones.
"The advantages for Vermeer are great," said Chad. "Pella Engraving's willingness to try something and ability to produce the end product earned our business on this project!"