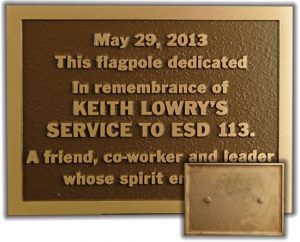 A cast bronze plaque is a long-lasting option for both indoor and outdoor use. Choose bronze any time you want your plaque to express a sense of respect and high esteem—such as dedication plaques, veteran plaques, sports plaques, memorial plaques, and recognition plaques. Bronze is also perfect for indoor and outdoor signs, commercial signs, and business signs.
A bronze plaque is created through a poured mold process. The raised areas on a bronze plaque, such as letters or a design, are the natural bronze color of the metal. Usually the bronze plaque has a concave back, and is 1/4″ thick in the center and 1/2″ thick at the edges. It is also available in 1/8″ thickness. Incorporated into the mold is a concealed stud area where threaded rods can be used for installation.
Read more about bronze plaques, including engraving and installation options, here.
Call 877-549-5447 or email orders@pellaengraving.com to place your order today!