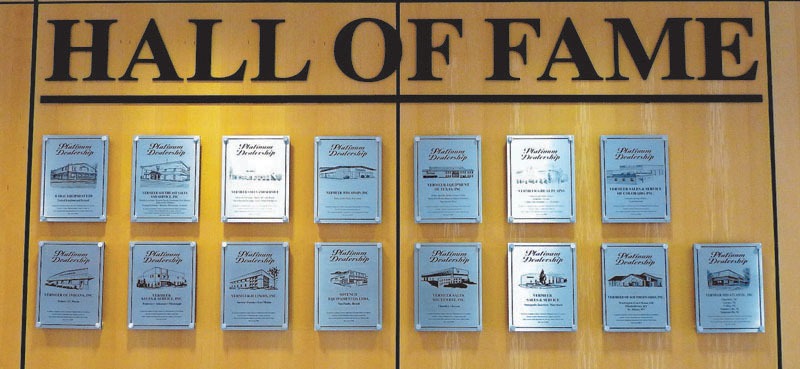 As the end of the year approaches, the to-do list for companies and managers gets long. It's likely that somewhere on that list is ordering awards or plaques for top performers, dealers, and other employees who have gone above and beyond during the year.
In the hustle to cross off the most important items, it's not surprising that whether those awards actually matter to the employees who get them is questioned. Don't they end up collecting dust on a shelf?
Maybe…
But over and over again, studies from Gallup and other leading workplace success firms have confirmed that employee recognition is a significant contributing factor in engagement and retention, two key drivers of overall profitability. In fact, employees who do not feel adequately recognized are twice as likely to leave your company. And those who choose to leave because of lack of recognition are probably top performers, making this doubly painful—and costly!
The good news? Studies also show public acknowledgement with an award or certificate is one of the six forms of recognition employees value most. A monetary award also makes the top six, but so do things like private recognition from a boss and increased job responsibilities—proving that it does not take a big investment to get positive results from the energy you put toward honoring employees who earn it.
So while that plaque or award may gather dust at some point, it won't happen before it serves its main purpose—creating goodwill and reinforcing a positive company culture with team members and dealers who excel throughout the year.
TIP: When you're delivering your awards, it's ideal to make sure the person doing the recognizing is either the employee's direct manager, or the CEO/high-level leader. Gallup data found that recognition from these two relationships is the most memorable to the employee, more so than recognition from their manager's manager, peers, or customers.
Popular Employee Recognition Plaques and Awards From PEC
Pella Engraving & Sign Company offers a range of materials and styles for employee and dealer recognition plaques and awards. From simple to modern to traditional, we have an experienced team of designers who can help you create an award that will stand out in your employees' minds and be valued throughout their careers.
Whether you need a year-end award, an employee-of-the-month plaque, or something to honor a career milestone, PEC is ready to meet your employee recognition award needs!
TIP: If you need awards in the next few months, contact PEC soon for the best selection. Our options and turnaround times vary based on our suppliers, the complexity of your design, and the size of your order.