Now that spring is finally here, people might start taking the time to admire outdoor scenery again, instead of hurrying as quickly as possible from their cars into your business's front door—so it's an ideal time to freshen up the look of the exterior of your business. One great option is a new outdoor sign.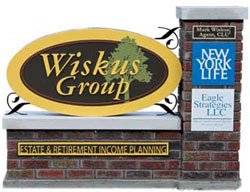 Since your outdoor sign will welcome customers to your business for years to come, you want to make sure it sends the right message. Here are five elements of a perfect outdoor sign:
Eye-catching – Your sign should be large enough to catch the eye and be readable, even to people driving by. Lighting is also important—you want people to be able to read it at night. And while it may seem obvious, make sure you place your sign where it is easily visible to passersby.
Simple and bold – A well-designed sign is critical. It will be read quickly, so keep the text and design elements as simple as possible. Choose a bold font, and don't be too wordy—just your business name and maybe a tagline. Stick to one or two fonts.
Tasteful accents – Pella Engraving has the capability to cut out intricate shapes, such as in the tree on the Wiskus Group sign to the right , and when well-placed, they can add a lot of personality and prestige to your sign. But use discretion—too many can be overwhelming.
Consistency – Your business sign should match your brand, including colors and fonts. If you have a logo, consider integrating elements into your sign—as again was done with the tree from the Wiskus Group logo on their sign. 
Tidy – A Pella Engraving sign will maintain its fresh appearance and color for years to come, but it still needs regular cleaning. You want to make sure the sign's upkeep matches your business's high-quality standards and professionalism.