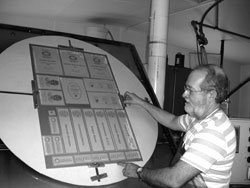 Plaque making is an art. It takes time, talent, training, and technical know-how to produce top-quality plaques like those created by Pella Engraving Company (PEC). Pella Engraving plaques serve hundreds of purposes and are installed in countless different locations.
Because PEC offers customers a plaque for every occasion, the total number of combinations available is virtually infinite. "With all the material, finish, color, thickness, and mounting options, the possibilities go on forever," said Jeff Vroom, PEC co-owner.
With so many options to choose from, Pella Engraving knows customers will need a little guidance to help determine the best plaque for their needs. So, the first step in the plaque-making process is visiting with a PEC customer service person, who will ask questions like: "Will your plaque be indoors or outdoors?" and "Do you have any artwork you'd like to feature?"
After the specific type of plaque is determined, typesetters and layout artists work with the on-paper design. If a portrait is to be included, PEC's portrait artist creates those drawings by hand. "We use desktop publishing software and provide customers with a proof to review," said Bruce Van Wyk, PEC co-owner. "Many times, we'll give them a few different layouts to consider."
After the proof is approved, the artwork is sent to an image-setter to be put to film. The film is then used to transfer the plaque layout to the chosen metal. Then, an etching machine operated by a technician etches away the background of the plaque, leaving raised text and images. "We can also create plaques in reverse," added Jeff.
Next, any little flaws are removed from the metal using hand tools. It's this attention to detail that makes PEC plaques some of the best available. "We are thinking about quality all the way through the process," said Bruce. "Jeff constantly researches to make sure we offer the best products, paints, and finishes."
Holes are then drilled, and corners are rounded if desired. Finally, the plaque is chemically cleaned and painted, sanded, and clear-coated for protection. The finish must be completely dry before the plaque is mounted.
Pella Engraving can complete about 175 plaques in a full day.
In spite of their production volume, Pella Engraving understands the meaning of each individual plaque. "A customer once called to thank us and said our plaque, which honored his deceased brother, brought tears to his eyes," said Bruce. "We understand how important our products are to our customers, and that is why we take such care with what we do."