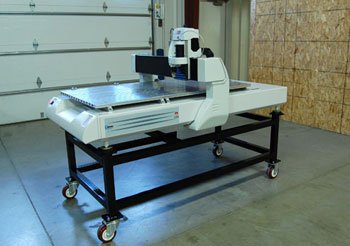 PEC's newest engraver, the IS8000 Rotary Engraver from Gravograph, is fast, accurate, and powerful. "We're very excited about this new piece of equipment," said Jeff Vroom, PEC co-owner. "Its more precise and intricate capabilities will allow us to expand our product offerings." The fast engraving speed of 9.45 inches/second does not detract from the reliability or quality.
The new engraver will also be able to tool into a wider variety of metals—even stainless steel. It also allows an expanded size range of up to 24″x48″. Soon to be operational, it joins PEC's lineup of other engraving options such as CNC routing and plasma cutting, metal etching, and laser engraving.
CNC Router and Plasma Cutter – Pella Engraving's CNC routing machine and plasma cutter are capable of executing intricate projects. Both machines are computer-controlled, ensuring accuracy and facilitating fast turn-arounds. We can manufacture individual letter cut-outs, cut irregular shapes with accuracy, cut curves and sharp corners with precision, and produce large signage in one piece.
Metal Etching – A photo-negative is prepared for artwork that needs to be etched. This image is exposed on the photo-sensitive surface of the metal. The coat hardens, covering and protecting the areas that will not be etched. The exposed metal is then chemically etched to provide a clear relief image. Color finishing and a clear coating result in a professionally finished product.
Laser Engraving – Pella Engraving offers a line of laser-engraved products which are perfect for a distinguished looking plaque or award. The most popular surfaces for laser-engraving are wood and acrylic, coated brass, leather, plastic, rubber, or stainless steel can also be etched. Once a product is etched, gold, silver, or a wide range of colors can be added to most laser-engraved products. For a different look, vectoring is used, a process where the machine cuts completely through the product to create an outline or shape.