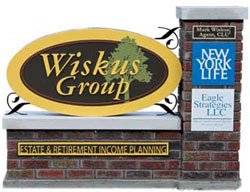 Mark Wiskus of the Wiskus Group, an estate and retirement income planning firm located in Pella, Iowa, knew the signage in front of his building would say a lot about his company before clients even said a word to him. So, he needed a sign that projected the right message: stability, professionalism, and integrity. It needed to be a sign with presence.
Mark turned to Pella Engraving Company (PEC). He already had a professional relationship with the company, and he knew of the passion owners Bruce Van Wyk and Jeff Vroom put into their projects. "I didn't know what they had done for signage in the past, but I had seen their other projects," said Mark. "I didn't give choosing PEC a second thought."
While Pella Engraving Company's business has traditionally been in the awards and plaque genres, the production and design skills used to execute these projects also make the company a perfect match for signage. According to Jeff, the team relished the creative and technical challenges presented by Mark's vision for his outdoor sign.
"I came to Jeff and Bruce with a photo of a sign I liked and my logo," said Mark. "I didn't sign a blank check, but I didn't put an exact budget on it, either. I wanted to let their minds wander and explore."
Jeff took charge of the project at PEC, and Mark was invited in several times to give the thumbs up or down on concepts. The final design is the result of collaboration between Mark and PEC. "We perfected some new processes in executing the more intricate details of the sign," said Jeff. "We are so appreciative of the way Mark approached this project. It allowed us to create something that showcases our full potential in the outdoor signage arena."
Mark also agrees that his flexibility paid off. The classic and eye-catching sign gets compliments from customers every day. "The sign is doing exactly what I need it to. It's making an initial impression that matches the Wiskus Group. It says we're a solid company that does not skimp on the details. Our clients can expect the same detail-focused treatment.
"On a regular basis I hear people comment that because we have such a professional sign, it signals to them that the people inside are professional too," said Mark. "You get what you see. When we first did the sign, we didn't shortchange on quality. The quality conveys a message of trust, which is particularly important in our industry. We wanted to give the message that we are here to stay."
Consistency was also important for Mark. "The sign ties into the overall appearance of our building, with the brick and colors used. The design also carries through to our website and all other marketing materials."
Interested in an outdoor or indoor sign for your business? Read more about signage options from Pella Engraving. Ready to talk? Call 877-549-5447 or email orders@pellaengraving.com.