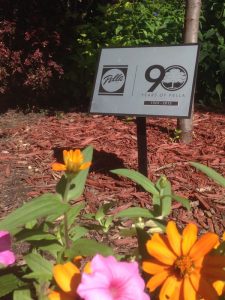 A plaque destined for exterior display often needs a durable, attractive stand on which to be installed. Pella Engraving offers garden stakes, memorial stakes, and other types of plaque display stakes for this purpose. These display stakes are available to both customers placing individual plaque orders and dealers interested in placing bulk orders to offer to their own customers. 
We offer two standard sizes and styles, but we are always willing to discuss manufacturing a custom plaque stake or heavy-duty stake that will better meet dealer and customer needs.

Two-piece, heavy-duty stake. A 4-, 6-, or 8-foot solid, black-painted aluminum pole with a separate backer head-mount. Shipped in two parts. If a plaque is part of the order, it ships attached to head-mount.
Plaque stake. A 22-inch tall, black-painted aluminum stake with a backer plate on which your plaque can be mounted. Maximum plaque size recommended for the plaque stake is 8×10 inches. Ships assembled.
Watch our plaque stake video to see these options.
Bulk orders of both plaque display stakes options are available. To qualify for a bulk-order discount, just order 10 or more stakes of the same kind. No plaque purchase is necessary. We will consider discounts on bulk orders in custom sizes as well—just contact us to start the process!