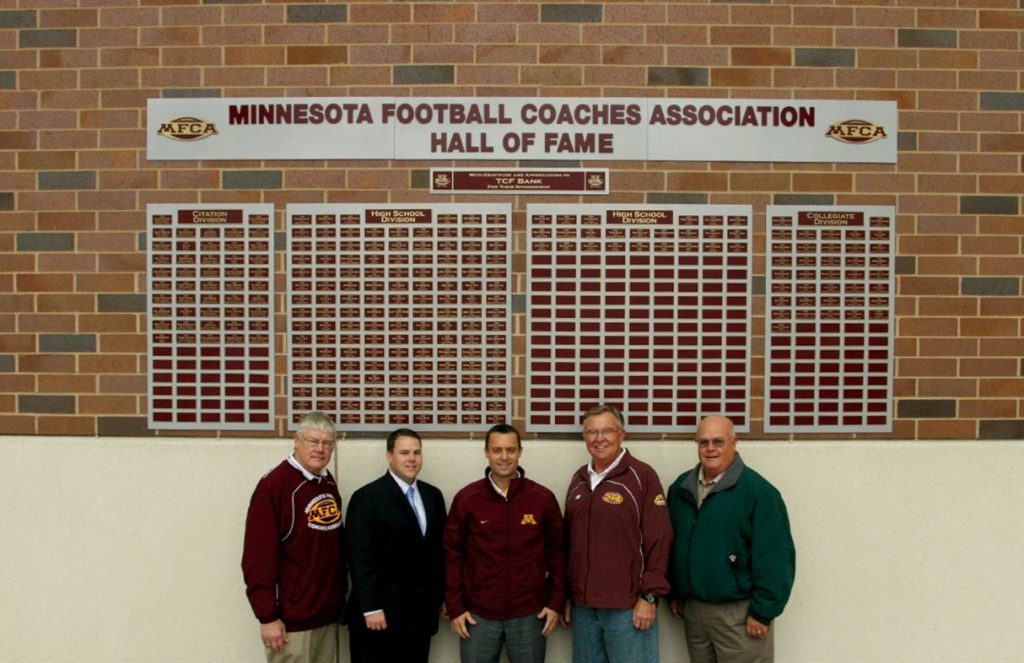 Pella Engraving Company's recognition walls are a unique, component-based system that can be customized to meet customers' unique needs for color and capacity. For schools, universities, hospitals, museums, libraries, churches, and many other organizations, a donor recognition wall is a great way to acknowledge the generosity of donors.
One customer, Varsity Photos, worked with PEC on a recognition wall and was impressed by the results. The company, whose main business is sports and events photographs, got a request from regular client Minnesota Football Coaches Association for an outdoor display wall to publicly recognize MFCA's Hall of Fame inductees.
"We provide the plaques that the MFCA needs for its coaching awards, special recognition recipients, and Hall of Fame inductees," said Tim Holker of Varsity Photos and Awards. "But this display is installed on an exterior wall of the TCF Bank Stadium at the University of Minnesota. We needed to partner with a company experienced in working with the appropriate materials for a display exposed to the elements.
"I made a trip to Pella to see the PEC operation and get a feel for the company and partners both personally and professionally. I presented my design ideas and got Bruce and Jeff's [PEC co-owners] input. I made a strong personal connection and left with a very positive impression of their ideas and capabilities as a company."
According to Tim, PEC exchanged ideas and offered and explained options for meeting the MFCA's needs. The final product features zinc plaques installed on top of multiple aluminum backer plates. "PEC also was willing to move up the timetable to ensure the job was installed in time for a special event prior to the first home football game of the year," said Tim. "Bruce and Jeff traveled to Minnesota to personally install the project and provide maintenance and installation guidelines.
"I had the utmost level of satisfaction with the final product as well as my entire project experience with PEC! They were receptive to my input, quick to respond to my needs, and willing to go the extra step when needed. I have received very complimentary comments on the display from a wide variety of people, including the university athletic director and the MFCA executive director."