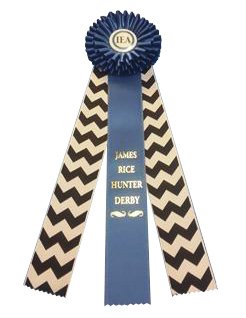 Horse Show Ribbons has a long history of providing high-quality foil-stamped ribbons for horse shows and equestrian events around the world. There is only one manufacturer Horse Show Ribbons Owner Page Estes trusts to provide the hot stamping dies she needs to create these ribbons for her customers: Pella Engraving Company.
Based in Wallingford, Connecticut, Horse Show Ribbons was founded in 1965 by Page's mother, Ellie Estes, now 93. When Page, a former champion horsewoman herself, began to expand the business, she acquired a company that was using Pella Engraving to fabricate its foil blocking dies. Soon after, Horse Show Ribbons placed its first die order with PEC and has never looked back.
When Page gets a new customer, their unique artwork is sent to PEC and processed through its system. First, a negative is created and imprinted on 0.153-inch magnesium, then run through an imager (image on left below).
Next, the plate is placed in the developing tank to expose the bare metal. Then, it's off to the etching machine where it is acid-etched to about .070" deep. The magnesium plates are then cut apart (image on right below). Although Horse Show Ribbons' foil blocking dies are unmounted, PEC does offer mounting on wood or aluminum backers.



Horse Show Ribbons' final die size is often 2.25 x 4 inches, but sometimes dies as small as 2 x 1 inch are created. The final size of the magnesium die is critical. "Even a fraction of an inch off on the size, and the dies won't work in the press," explained Page.
Page needs one master plate for each customer. This plate typically lasts 10 years. She uses a separate plate, also made by PEC, with place imprints—e.g., first, second, third, etc.—in combination with the main imprint for place ribbon orders. Using the presses in her shop, she uses gold or silver foil to stamp onto the color and style of ribbon chosen by the customer.
"We produce more than 500,000 ribbons each year," said Page. Beyond equestrian customers, Horse Show Ribbons also makes ribbons for birthday parties, weddings, bat and bar mitzvahs, and other events.
PEC gets a hot stamping die order from Horse Show Ribbons two to three times per week during their busy season, and about once a week the rest of the year. Because PEC fulfills same-day turnaround when artwork is emailed by 9:00 a.m. Central Time, Page knows she never has to wait long for her dies to arrive.
"They know exactly the size I need, and they've helped me out when I need to place an order in a hurry," said Page. "They are so easy to work with—I would not think of going anywhere else."