It's been a busy spring and summer for Pella Engraving Company as we bring on new talent to support long-time staffers who are moving into part-time roles and increase staffing to meet customer demand.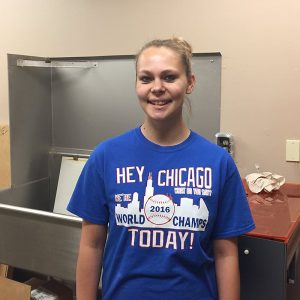 Ashley Stephenson has joined the Metalphoto® workshop for Pella Engraving Company in a full-time role. She is currently completing training with Metalphoto expert Connie Rowe.
Ashley helps prepare the aluminum plates once they are imprinted with text and images, then submerges them in the sealing tank full of boiling water. She ensures the quality of the final product is up to PEC's high standards once the plates are removed from the tank and have cured. Ashley will also assist with plaque framing once she is fully up to speed with the Metalphoto process.
"The chance to grow and learn in a full-time role is what attracted me to Pella Engraving," said Ashley, who grew up in Pella and previously worked at the Royal Amsterdam Hotel and Monarch's Restaurant. "I appreciate that there is something a little different to do every day."
Ashley has a son, Jaxson, who is two years old.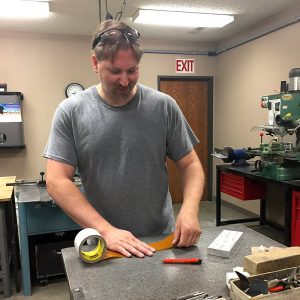 Charles Sirovy has started taking the reins as a full-time magnesium etcher for PEC. Charles brings to his role an extensive background in maintenance and manufacturing, as well as an Associate in Applied Sciences degree in computer programming.
As someone who loves working with his hands and seeing a product transform from an on-paper design into a completed plaque, Charles appreciates his part in the production process. He cuts the wood blocks and adheres the magnesium plaque plates to them so they can be drilled, pressed, and sealed.
The atmosphere at PEC is something that has Charles engaged with his new role and excited for his future career. "It still feels like the first day to me because everyone continues to be so welcoming and connected."
Charles has three daughters: Sam, 17, Katie, 14, and Becca, 11.