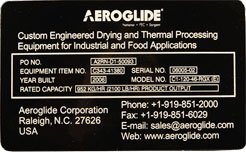 Pella Engraving Company is testing an expansion to its lineup of product identification tags for machinery and vehicle identification: a decal sticker. PEC currently offers anodized aluminum tags onto which it etches indelible serial numbers using Metalphoto® technology.
The decal sticker version of the product identification tag is just as durable as the aluminum version.  In fact, the U.S. military makes use of the same material. PEC uses its laser engraving process to burn the barcode and serial numbers into the decal.
The decal material offers a peel-and-stick backing that is user-friendly and ensures a low-maintenance application process. Sizing is also flexible; decals can be up to 4.5 inches tall and up to 23 inches in width.
If you are interested in ordering self-adhesive product identification decals from Pella Engraving, or want more information, call Jeff Vroom at 877-549-5447.