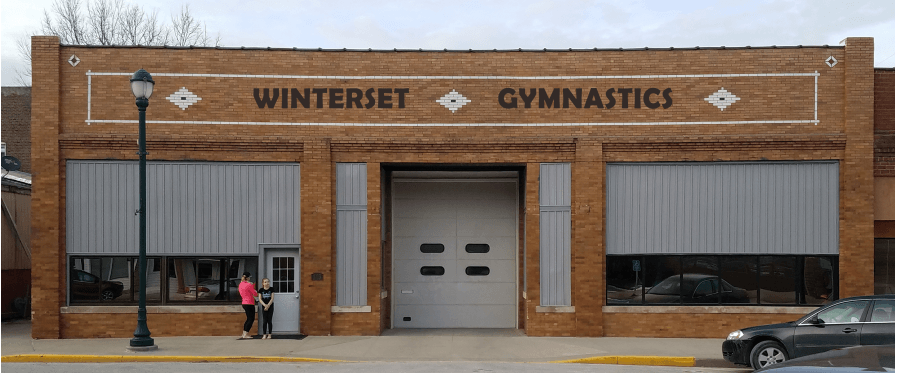 The athletes and coaches at Winterset Gymnastics are flying high thanks to the new company sign created by Pella Engraving Company.
The gym, which offers tumbling and trampoline classes to kids ages 2 to 18, was in need of a sign after they relocated in August 2016. "The building we moved into is much larger than our old space and just turned 100 years old," explained Matt Floden, who co-owns Winterset Gymnastics with his wife, Holli. "We did a lot of renovation. While we were able to get the majority of the work finished before Christmas and start classes in the new studio in January 2017, we waited on the sign until a mason could come and repair some of the bricks and mortar on the exterior. That masonry work was completed this year, so we were ready to move forward."
Matt and Holli knew the façade of their building featured a border and two diamond accents in white brick. However, historical photos of the building revealed there was a third diamond accent covered by old signage. Excited by the discovery, they removed the old sign and started brainstorming ways to design their sign around the three diamonds. Matt, an architect by trade, used Photoshop to digitally build a mock-up of the sign they envisioned.
Matt and Holli knew right where to turn to make their vision a reality. Holli is the sister-in-law of Pella Engraving Company Co-Owner Cory Vande Kieft.
"We got the mock-up, then chose a color from our Matthews Paint System that closely matched the color of the sign in Matt's example," said Cory. "This paint is specifically formulated for signage and performs really well in outdoors settings."
Next, Co-Owner Jarid Purvis used the PEC plasma cutter to cut the 20-inch-high letters out of 1/8-inch-thick aluminum. He set the type to match the font from the mock-up. Once the letters were cut, he sanded them to remove imperfections and drilled holes for the stainless-steel screws that would secure the letters to the building.
"We painted the letters and the screws with the brown color we chose to match Matt's example," said Cory. "After that, we put on a clear coat to give the letters an added layer of protection from the weather. This coat also contains a UV inhibitor to help prevent fading."
On a clear February morning—less than a week after Matt sent the Photoshopped mock-up to Pella Engraving—he installed the finished sign on the building with help from Toby Tyler, the dad of a Winterset Gymnastics athlete who was also very involved in the remodel of the new studio.
"If you're looking for a sign I would definitely recommend working with Pella Engraving Company," said Matt. "They were fast and easy to work with. The end product perfectly matches the vision we had."