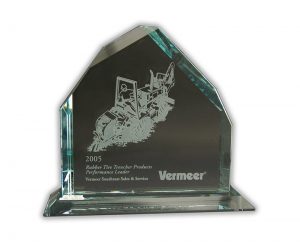 For a unique and beautiful award, have your text, graphic, or logo sandblasted into a product. Personalize further by adding a color fill to the image choosing from our selection of colors.
Commonly used for glass engraving, we can also sandblast crystal and marble.
In the sandblasting process, also known as sandcarving, the product is carved using silicone sand, creating a recessed image.
Sandblasted crystal or glass will have a frosted look.
Materials
Glass and crystal are available in an assortment of sizes and styles. Please call for pricing quotes and additional information regarding sandblasted products.
Maximum Size
20″ x 30″
Click here to download our artwork specifications.
Watch our sandblasting process in the video below.
Save