Color Options for Zinc & Magnesium Plaques
To personalize your zinc and magnesium plaques, awards, and signs, Pella Engraving & Sign Company offers several coloring options.
Color Options for Recessed Areas
The recessed areas of etched plaques can be painted with your choice of standard colors. Standard color options differ depending on the color of your plaque finish.
In addition to the standard options, hundreds of PMS PANTONE® colors are available at an extra charge. More than one color can be used, but a raised area must separate each color.
Standard color options – silver finish*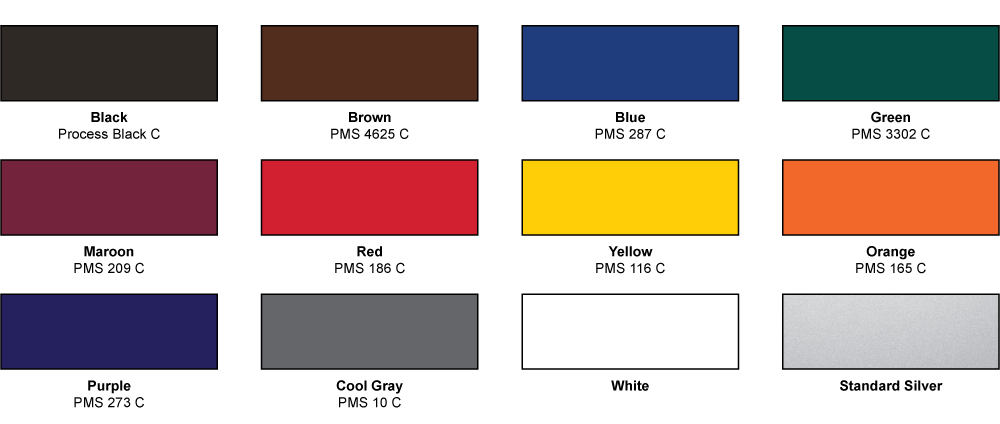 Standard color options – gold or copper finish*

Options for raised plaque elements
Color tipping – Raised areas of magnesium or zinc plaques can be tipped with paint in the color options shown below.
Standard tipping options*

Protective finishes – Raised areas of magnesium or zinc plaques can have a gold, silver, or copper finish applied. Gold or copper protective finishes may slightly change the appearance of the color in recessed areas.

*PMS numbers reflect the closest PMS PANTONE® match to our standard color options. All color samples shown on our website represent a premixed ink. All monitors display color differently. Therefore, the color of your final product may not match exactly the color samples you see on your screen.
Click here to download our artwork specifications.
Save
Ready to get started on your plaque?